Los Angeles, USA, 2002 + Trapholt Museum of Modern Art, Kolding, Denmark, 2003



The exhibition took place on rented commercial bus benches in different neighborhoods of Los Angeles. Each artist was invited to make a poster, which was then installed at bus stop benches throughout the greater Los Angeles County.
Seven benches were treated with a white acrylic coating suitable as a ground for permanent pen marker, spray paint and a variety of other mediums and as such available for public usage.
Participating artists: Claus Andersen, Michael Baers, Dave Hullfish Bailey, Brett Bloom, Jakob S. Boeskov, Kaucyila Brooke, Matthew Buckingham, The Centre for Land Use Interpretation, Plakatmaker & Koco, Kirsten Dufour, Sam Durant, Olafur Eliasson, Michael Elmgreen & Ingar Dragset, Henriette Heise, Laura Horelli, Charles Irvin, Karl Holmqvist, Maria Karlsson, Jakob Kolding, Rev. Chris Korda and The Church of Euthanasia, Mads Ranch Kornum, Kvinder på Værtshus (Women Down the Pub), Olga Koumoundouros, Maria Lindberg, Annika Lundgren/Karin IM Johansson, Lize Mogel, Dave Muller, N55, Henrik Olesen, Michele O'Marah, Pia Rönicke, Lars Bent Petersen, Katya Sander, Kerry Tribe, Ultra-red and Natalie Zimmerman
A catalogue was published on the occasion of the exhibition at Trapholt Museum of Modern Art in Sep 2003 - for more information visit Pork Salad Press >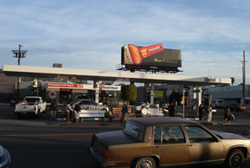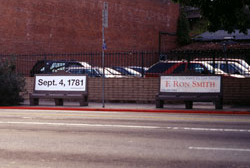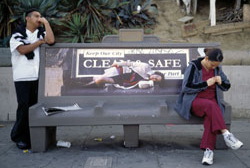 See more images from Rent-a-bench >